800,000 Indians Vie to Break World Record Planting 50 Million Trees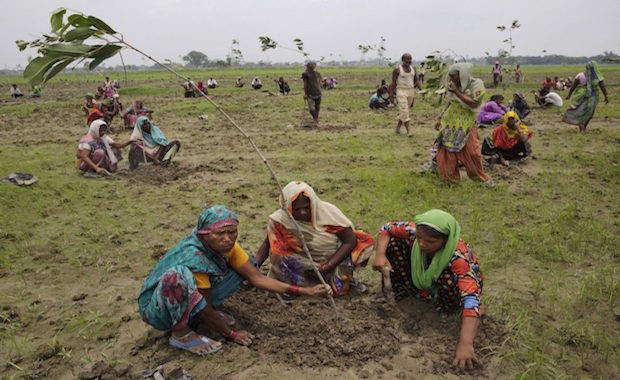 800,000 people in India turned out this past week to try and break a world record.
Officials from the Indian state of Uttar Pradesh distributed tree saplings to citizens in hopes of breaking the Guinness World Record for number of trees planted in a single day. The previous record of 847,275 was set by India's historic rival Pakistan in 2013.
The government handed over 50 million saplings for the attempt, as normally only 60 percent of saplings survive to become trees. Beyond national pride at stake, officials hoped that the initiative would help India increase its forest cover. The tress will be planted in different areas such as rail tracks and forested lands by students, lawmakers, and government officials. 
Uttar Pradesh's Chief Minister Akhilesh Yadav shared with the Associated Press "that this record-breaking attempt would help spread awareness and enthusiasm about afforestation and conservation."
"The world has realized that serious efforts are needed to reduce carbon emissions to mitigate the effects of global climate change. Uttar Pradesh has made a beginning in this regard."
Indian state plants 50 million saplings in a single day: Hundreds of thousands of people in India's most popu… https://t.co/3AERnwLGO3

— CITY DXB GUIDE (@CityDXBGuide) July 12, 2016
While Uttar Pradesh has taken the first step, India's government is encouraging all states to follow their lead. They've spent nearly $6.3 billion in an attempt to push the continent's forest cover to 235 million acres by 2030.
As for the world record attempt, senior forest official Sanjeev Saran told the AP that Guinness officials are observing the progresses on the trees while undercover.
"They are out in the field and are supervising the plantation drive. We do not know who they are or where they are at this point in time."
Advertisement
More Articles from YourDailyDish