9-Year-Old Throws First Pitch One Year After Receiving First Ever Double Hand Transplant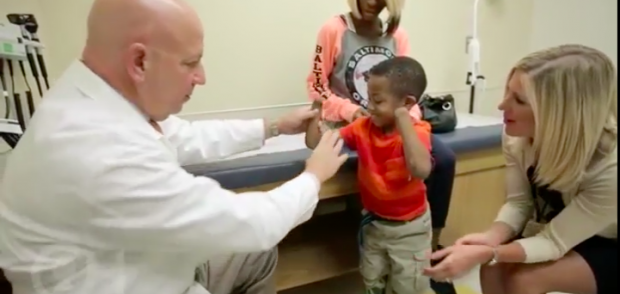 Imagine not having hands. Imagine that. I wouldn't be typing this. You couldn't hold a knife and fork. You couldn't shake someone else's hands. This was the life of Zion Harvey, a 9-year-old boy who, due to a
bloodstream infection known as sepsis
 that started when he was two, had to have both his hands and feet amputated. The infection also took one of his kidneys, which was transplanted using one of his mother's (he received prosthetics for his legs). Even with his condition, Zion grew up as other boys did: happy and worry-free.
His mother, Patti Ray, took him to a specialist in Philadelphia, where, after an 18-month deliberation and evaluation process, it was determined that Zion would be the ideal candidate for a double hand transplant, a radical form of surgery never before performed on a child. Coincidently, Harvey's use of immunosuppressants from his kidney transplant made him less susceptible to the risks involved. Once a donor was found, Zion underwent the 11-hour surgery (that included 40 people), which proved to be a great success. This was last year. Yesterday, Zion Harvey threw the first pitch with his new hands at a Baltimore Orioles game.
Tonight, Zion Harvey, the first child in the world to undergo a bilateral hand transplant, threw the first pitch.https://t.co/wuk5Qsr90Q

— Baltimore Orioles (@Orioles) August 3, 2016
Harvey will have to undergo extensive therapy to complete his procedure for the next year, but the strength and inspiration he provides with his story can help us all heal.