Adorable Daughter Interrupts Homecoming Ceremony To Hug Navy Father
Advertisement
During the ceremony, Oglesby was standing at attention in the front row. Across the gymnasium little Karis recognized her father and quickly set into a sprint across the room. Karis went right to her father and hugged his legs. Breaking routine, Oglesby bent down to hug Karis and told her to go back to her mother. While it's not in protocol to do so, the sweet moment drew a chorus of "Aww's" throughout the gym. Karis' mother, Kristine, believes her daughter got the idea from a book,
Lily Hates Goodbyes,
about a young girl whose father goes away on deployments. The book ends with the young girl running to her father to give him a hug upon his return. Karis told Kristine she would do the same thing, and her mother responding, "Yes, yes, you're going to do that," not thinking her daughter would remember or even
really
do it. Of course, Oglesby wasn't complaining about his daughter's sweet gesture. "We all understand. That's their moment. It's tough on them being away from family for eight-plus months. When they finally see them, there aren't many people who will stand in their way of seeing their parents, and it definitely wasn't going to be me."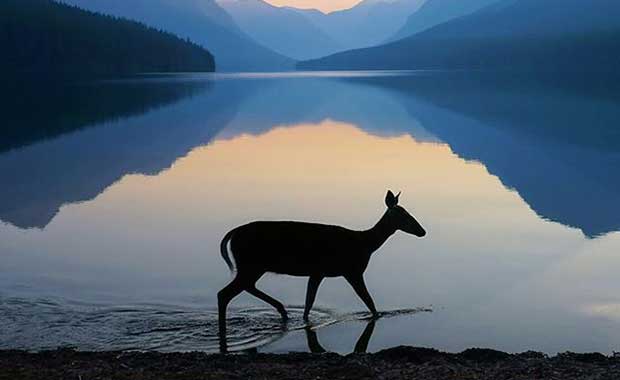 U.S. Department of the Interior Dominates Instagram With Stunning Photography
If you aren't following the U.S. Department of the Interior on Instagram, you should immediately! To say that their pictures are breathtaking would be an understatement. Their Instagram conveniently connects us with nature and reminds us how truly stunning our environment is. Here's a look at some of our favorites!
click here to read more
Advertisement
When Daniel Oglesby was sent away for eight months on active duty for the NAVY, he and his wife wondered how their three-year-old daughter would react when he returned. They wondered if Karis would remember him after such a long time and her being so young. So the eight months passed and Oglesby returned, but what happened at the homecoming ceremony brought a lot of joy to the entire room.