Here Are the Best Photos of Take Your Dog to Work Day!
Advertisement
Here are some of the best photos of (mostly) canines at work!
Happy Take Your Dog to Work Day!#TakeYourDogToWorkDay #TYDTWD pic.twitter.com/3NZnGqC0B1

— UTRGV (@utrgv) June 24, 2016
Welcome to the Paw-erhouse.#TakeYourDogToWorkDay ? pic.twitter.com/3m1Np9WG8R

— UniversityofHouston (@UHouston) June 24, 2016
Who else got to bring their #BFF to the office today? #TakeYourDogToWorkDay pic.twitter.com/gPKFNLXphe

— Blue Buffalo (@bluebuffalo) June 24, 2016
#TakeYourDogToWorkDay "No we don't sell Mad Dog 20/20" pic.twitter.com/UtTJyy3AgR

— LizzLocker (@Lizzs_Lockeroom) June 24, 2016
Every day is #TakeYourDogToWorkDay for #UCFPD K-9! pic.twitter.com/yGSDWpCT6v

— UCF Police Dept. (@UCFPolice) June 24, 2016
It's #TakeYourDogToWorkDay and the Empire is very dog friendly! #501st pic.twitter.com/1TCCO7lkel

— 501st Legion (@501stLegion) June 24, 2016
It may be #TakeYourDogToWorkDay, but in this office, the cat is the boss! pic.twitter.com/3Q3ZBEUB0V

— Christine McMinn (@cmcminn912) June 24, 2016
When someone brings their dog to work, so you kidnap it and bring it to your office! #takeyourdogtoworkday pic.twitter.com/sQwYClhpcJ

— Jessica Rohrer (@Jessie_Rohrer) June 1, 2016
Just another Friday at the @GoWanderu office. #StartupLife #TakeYourDogToWorkDay #Dogpocalypse pic.twitter.com/JC45rFtjrV

— Phil R. (@jinzilla20) May 27, 2016
The dog has now adopted my trademark position in the office #takeyourdogtoworkday pic.twitter.com/Ojh254qbQi

— James Toney (@jtoneysbeat) May 26, 2016
Benefits of working for a #startup: flexible #hours, a #PoolTable, #kegerator and it's always #TakeYourDogToWorkDay! pic.twitter.com/DoBFMXxi65

— Terriers @ Work (@TerriersAtWork) May 25, 2016
It's #TakeYourDogToWorkDay #Claude is in the studio with @TheBandBlake Guess he was singing off-key~hence producing! pic.twitter.com/5LywGW6Qcd

— ❦Blake Passion♪♫ (@BlakePassion) May 9, 2016
Charlie the dog at the YMCA #LoveMK #takeyourdogtoworkday pic.twitter.com/QF9azemzz9

— Shahnaz Hussain (@browneyeshiny) April 28, 2016
It's #TakeYourDogtoWorkDay, but some dogs work every day! Meet Molly the Fire Safety Dog: https://t.co/OKnBIWt150 pic.twitter.com/CsQ4lCl5wZ

— Skype Classroom (@SkypeClassroom) June 24, 2016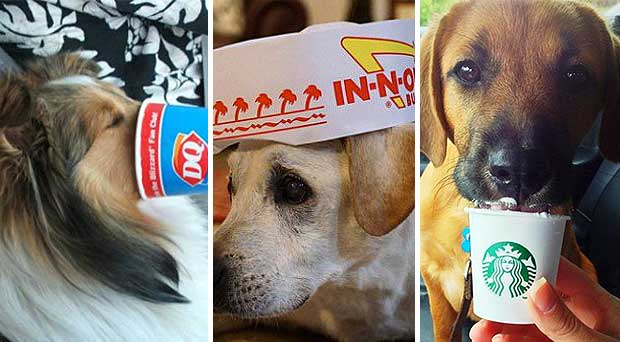 You're Going to Want to Know About These Secret Menu Items for Dogs
Have you ever been out with your dog and wanted to get them a sweet treat, but couldn't find a pet-friendly location? Well, fear no more! Many places are becoming super pet friendly, and are even crafting certain menu items specifically for your K9. While some places are slow to get onboard…
click here to read more
Advertisement
June 24 marks Take Your Dog to Work Day. The holiday first began in the U.S. in 1999 and was created by Pet Sitters International as a way to encourage dog adoption from shelters. PSI believes that workers who don't have dogs will be encouraged to adopt after encountering the fuzzy companions in the work place. The day typically takes place the Friday after Father's Day. Today, companies and employees all across the nation are enjoying bringing their dogs (and sometimes cats) to work.