Breitbart Reporters Resign Following Incident at Trump Event
Controversy continues to surround Republican presidential front-runner Donald Trump. Shocking. A reporter for Breitbart, a conservative news outlet, resigned on Sunday following her reported assault by Trump's campaign manager.
In a statement made to BuzzFeed, Michelle Fields said, "I do not believe Breitbart News has adequately stood by me during the events of the past week and because of that I believe it is now best for us to part ways." She followed up with a tweet stating, "I can't stand with an organization that won't stand by me."
Fields had attended a Trump Press Conference, in which the presidential hopeful appeared to be in a "jovial" mood and was "happily answering queries" from reporters. When Fields had her chance to ask Trump about his view on an aspect of affirmative action, before he could answer, Fields was yanked back by her arm to the point of bruising. Standing nearby as the incident occurred, 
The Washington Post's 
Ben Terris quickly identified Trump's campaign manager, Corey Lewandowski, as the man who grabbed her. Both Fields and Terris wrote accounts of the assault, which were particularly pertinent following
other reports of violence that seem to be the norm at Trump events.
Her accusations were followed with immediate backlash, not only by members of Trump's campaign, but within her own company at Breitbart as well. Lewandowski deemed Fields, "delusional," while Trump asserted she had "made up" the incident, despite the mounting evidence proving otherwise. Outside of Trump's camp, a fellow Breitbart reporter, seemed to question the validity of Fields' claims via Twitter. Though the reporter was suspended, and the chief executive of the site called on Lewandowski to apologize, the lack of outright support for Fields continued.
I guess these just magically appeared on me @CLewandowski_ @realDonaldTrump. So weird. pic.twitter.com/oD8c4D7tw3

— Michelle Fields (@MichelleFields) March 10, 2016
Breitbart published a '
consirpacy' style piece comprised of a series of images
calling into question whether it was actually Lewandowski who assaulted Fields. The site then published a
piece
featuring text messages that would "prove" Lewandowski's innocence in the situation. The senior editor-at-large of Breibart also told his staffers to cease defending Fields. Allegedly, those who publicly defended her were threatened with termination.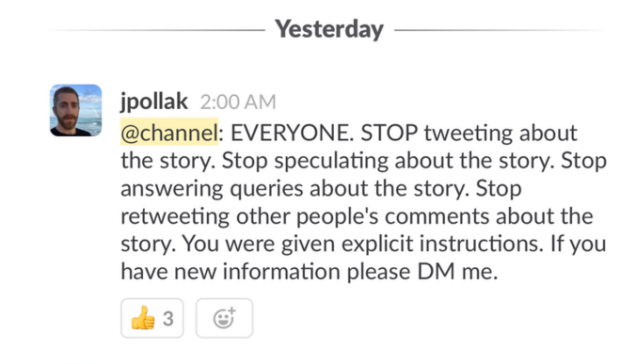 The lack of internal support drove not only Fields to submit her resignation, but Breitbart's editor-at-large, Ben Shapiro, as well. Shapiro laments that the values and integrity of the news source are evidently no longer in line with those of the late founder's, Andrew Breitbart. Shapiro asserted, "Indeed, Breitbart News, under the chairmanship of Steve Bannon, has put a stake through the heart of Andrew's legacy. In my opinion, Steve Bannon is a bully, and has sold out Andrew's mission in order to back another bully, Donald Trump." He continued, "Both Lewandowski and Trump maligned Michelle in the most repulsive fashion…This is disgusting. Andrew never would have stood for it. No news outlet would stand for it." Breitbart News has not officially commented on the resignations.