Celine Dion Issues First Statement Since Husband Rene Angelil's Funeral
Entertainment
| |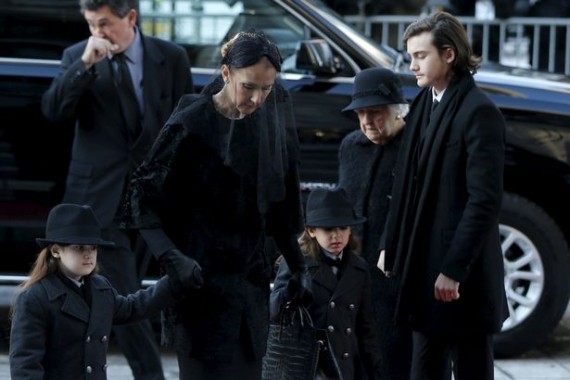 Celine Dion has spoken out publicly for the first time since her late husband Rene Angelil was laid to rest. The "My Heart Will Go On" singer mourned her spouse at his funeral on January 22 at Montreal's Notre-Dame Basilica – the church where she and Angelil were married in 1994.
Angelil's funeral service was broadcast nationally and Dion now admits grieving with millions of people helped her cope with the sadness of saying goodbye to her husband of over two decades. The widowed musician shared her gratitude for the support of other mourners in a statement published in French on her website on Friday. The English translation reads:
"We thank from the bottom of our heart all the people who have expressed their love for Rene during these trying times. Your testimony and your support helped us, more than you can imagine to take this step and say our farewells. "Thank you also to the Government of Quebec for holding a national funeral, as well as to the many individuals and organizations who worked to provide a final tribute to the height of the man he was."
Dion signed off with her own name and that of her sons with Angelil, Rene-Charles, 15, and five-year-old twins Eddy and Nelson, and his three children from previous relationships. Angelil lost his battle with cancer in Henderson, Nevada, on January 14, two days ahead of his 74th birthday. Dion has coped with significant loss within the past month as her brother Daniel, one of the star's 13 siblings, also lost his battle with cancer on January 16, just two days after her husband's death.