Dramatic Dog Rescue From Icy Pond Caught on Camera
Advertisement
St. Albert officials warned of a dramatic increase in ice rescue calls
, but this one involved a man and his dog. Duncan MacIver didn't hesitate one split second to jump into an icy cold pond when his dog Cosmo ran onto the pond and broke through thin ice. Jung and her crew caught the entire rescue on camera.
In the dramatic video you can see MacIver jump in and swim his way over to Cosmo who is feverishly doggy paddling to keep his head above the water. For one breath-holding second the two plunge down together, only to resurface as MacIver pushes Cosmo onto steady ice. When you think they are out of harms way, MacIver, with Cosmo in his arms, steps cautiously toward the bank over more thin ice when they plunge down again. Finally they make it onto stable ground. Dog lovers unanimously rejoiced in the rescue as over 93,000 watched the report which was posted on Facebook by CTV News at Six. In the report, MacIver told Jung as soon as the ice broke he dove right in – not thinking he risked his own life to save Cosmo. "It wouldn't have been much of a life if I had to watch my dog drown. I didn't expect it to become as dire as it did, but here we are. I just knew he was not a good swimmer so I had to dive in right away," said MacIver. Safely on solid ground, Cosmo seemingly no worse for the wear, and MacIver soaked but smiling that his dog made it, Jung asked, "How are you doing? How is your dog feeling." "He's okay," MacIver said. Exiting the park with Cosmo happily leading the way, MacIver told CTV Edmonton, "It's a split second thing. You're not just going to let him die, right? I think most people would do the same for their dog."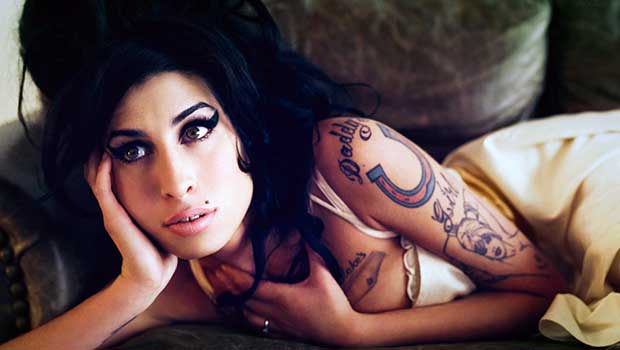 The Tragic Celebrity Stories of the 27 Club
Only "Somebodies" get into the 27 Club, but nobody wants to be a member. What is it about the age 27 that strikes down so many of our favorite rock stars, actors, artists, and even athletes? We may never know. What we do know is that these celebrities all met their…
click here to read more
Advertisement
Talk about being in the right place at the right time. Angela Jung, a journalist for CTV News Edmonton in Canada, was at Lacombe Park in St. Alberta covering a story about ice safety on April 8 when a dramatic situation unfolded that couldn't have been a better cautionary illustration for her report.