Floating Flora Is the Modern Home Decor You Need in Your Life
Advertisement - Continue reading below
A new innovation in home gardening might have your houseguests believing you know magic.
Lyfe is a new floating pot that will send your home decor into the stratosphere, so to speak. What it will actually do is provide a beautiful new way to display your houseplants above a magnetized base that rotates the plant for a stunning aesthetic.
From the company's website:
"Lyfe is a zero-gravity growing system allowing you to cultivate your favorite plants in mid-air. … Lyfe consists of a planter that hovers over an oak base via magnetic levitation. Designed to gently rotate during suspension. The rotation especially benefits Air Plants, as nutrients are absorbed by their leaves through the air, rather than the conventional root system."
The spinning effect also serves to allow the plant to receive light from all angles, rather than just one.
Swedish botanist Carl Linnaeus helped identify these "Air Plants," which "thrive upon the circulation of airborne particles; with no soil required, our gravity-defying and rotating microclimate naturally nurtures," the company states.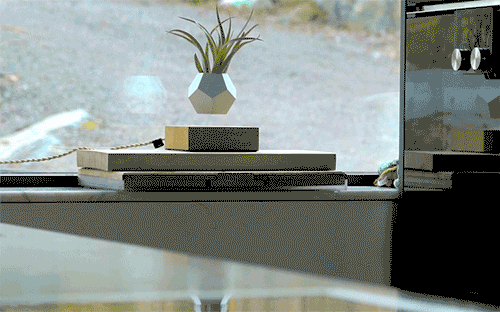 To pair with the floating plants, the company also makes levitating lights you can add to your decor.
If you want to learn more or order your own Lyfe plant, head on over to Flyte's website.
Just don't tell your neighbors about the magnetic base. Might be kind of fun if they think you're a sorcerer.
Advertisement - Continue reading below