Lady Gaga Shares First Photo From 'A Star Is Born'
Movies
| |
Advertisement
Lady Gaga shared the first image on Monday from her film remake of A Star is Born, also starring and directed by Bradley Cooper.
The classic Hollywood tale of two stars colliding, one whose career is on the upswing and the other's waning, has been made three times previously, most recently in 1976 starring Barbra Streisand and Kris Kristofferson.
Lady Gaga, who will be billed under her real name, Stefani Germanotta, wrote beside the image of herself and Cooper on Instagram: "I am so excited to star in my first movie alongside someone I'm so lucky to call my friend. I always wanted to be an actress on the big screen."
She added, "The story of 'A Star is Born' is so special and I'm so grateful to Bradley for making my dream come true." She signed off by saying: "Can't wait for you to meet Ally. She has her first scene in 5…" The film marks Cooper's directorial debut and, in addition, he is co-producing the project and co-writing it. He will also play country music legend Jackson Maine who is struggling to keep his career on track. Lady Gaga is hopeful singer Ally who Jackson not only takes under his wing, but also becomes romantically involved with. Fans in Indio, California for last weekend's Coachella music festival kickoff — at which Lady Gaga was one of the headliners — received an added bonus when they were offered $10 tickets to feature as extras in scenes being filmed at the site for the new film. All proceeds from the sales will go to Lady Gaga's Born This Way Foundation.
A Star is Born
is due for release next September.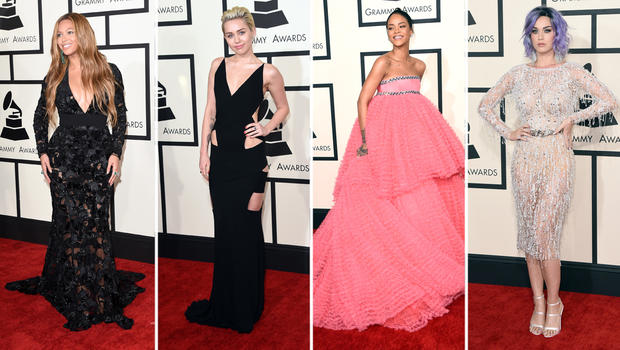 Must-See 2015 Grammy Awards Red Carpet Looks
The 2016 Grammy Awards will be held on February 15th and there is much anticipation to see what the biggest artists will be wearing. In the midst of award season, here is a recap of the must-see looks from the 2015 Grammy Awards!
click here to read more
Advertisement