Man Cleans Up Oil Spill Using His Beard
A professor from Dickinson College is using his epic beard to save the environment. As it turns out, hair is actually really good at absorbing the oil from oil spills. So biology professor Scott Boback cut it off. Boback then donated it to Matter of Trust, an environmental non-profit started in 1998 that collects hair to help clean up oil spills.
In 1999, hairdresser Phil McCrory came up with idea to use hair as way to soak up oil from oil spills. He was watching the coverage of the Exxon Valdez oil spill while washing a client's hair when the idea hit him. At the time, people used petroleum-based mats to soak it up, which meant more oil had to be dug up in order to clean up the oil that was already spilled. So, McCrory brought his idea to Matter of Trust and together they created the
Clean Wave Program
to collect old hair, fur, wool, and even feathers and laundry lint to fight oil spills. The hair doesn't have to be in good condition to donate and can be any length, so don't think you need a Boback-length beard in order to donate. The hair is used by stuffing it into nylon stocking nets or weaved into hair mats.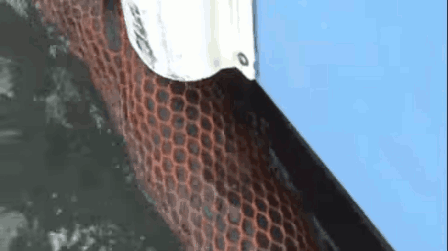 According to A Plus, the hair mats and nets can be reusued many times after being wrung out. The organization also has after-school programs and teaches kids about the importance of the environment and how to use their hair creations to soak up oil.