Man Pays His $212 Speeding Ticket With 21,200 Pennies
When Brett Sanders was pulled over for speeding, he couldn't make
sense
of the ticket. Back in October, Sanders was pulled over after going nine miles over the speed limit in his town of Frisco, Texas. Sanders, who was charged $212 for speeding, was very annoyed and thought it was "unfair."
"I didn't hurt anybody," he told BuzzFeed News. "I didn't endanger anybody. My speed was safe for the conditions around me. I didn't feel like I owed anybody anything."
He took the ticket to court and lost in a jury trial. After the loss, Sanders was still annoyed about the ticket and wasn't going to causally pay for it.
In a form of revenge, Sanders paid for his ticket with 21,200 pennies. He recorded the payment and uploaded the video to YouTube in a video titled, "How to pay a speeding ticket. #ResistTheft."
"I decided I wanted to make a point that this is not right," he said. "This is not fair."
After collecting the pennies, he dumped the change on the clerk's counter where the majority of it ended up on the floor. Sanders even labeled the buckets he carried the pennies in "extortion money."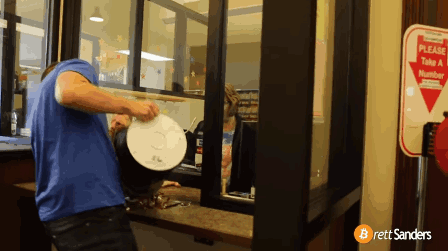 "It felt great," he shared with
Today
. However, the clerks weren't too happy with Sanders payout. According to the
New York Daily News,
they spent three hours collecting, counting, and re-rolling the pennies for deposit. In the end, Sanders overpaid for the ticket. He gave them an extra $7.81, but he doesn't plan on collecting his extra money.
"It felt good just from an emotional standpoint to just kind of stick it to them one last time," he said. "But at the end of the day, I left without $212. At least I proved my point and was able to share that with a lot of other people and spark a debate."
Watch the whole payout below.