Meet Beya, the Most Socially Awkward Dog Caught at Any Pool Party
Meet Beya, the dog who is clearly not happy to be at the pool party.
The Chesapeake Bay Retriever recently spent some time at the Happy Tails Resort, a day care for dogs in Norfolk, Virginia. The dogs took a little dip in the pool while at the daycare which everyone seemed to be pretty excited about, except for Beya.
In the video, Beya is standing on her hind legs in the pool just staring at the camera. It seems as though the dog wasn't excited to be at the pool party and just wanted to be on dry land.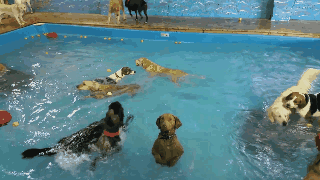 However, Beya is simply waiting for a ball to be thrown into the water!
Just look at that level of concentration!!
Beya is normally a big presence at pool parties at the daycare, however the ball took precedent this time around.
"She'll hang out all day if we let her," Kayla Jones, Happy Trails receptionist, shared with Today. "She will swim around, do some laps, but her comfort zone is where she's just hanging out. Every so often she might kick a paw out."
The video has already been viewed over 11 million times (at time of publication) since being posted on June 9. Happy Trails never expected the video to blow up and go viral. They are very excited that everyone loves Beya!
"We never thought it would go as big as it did," said Jones. "The owner, Jana Underwood, loves that everyone is so excited and interested."