Meghan Trainor is 'Fine' After TV Fall
Meghan Trainor has laughed off her embarrassing TV tumble after falling in her six-inch heels at the end of a performance. The "All About That Bass" star was wrapping up her rendition of new single "Me Too" on
The Tonight Show Starring Jimmy Fallon
on Thursday, when she tried to pull off a sexy spin and grab the microphone as part of her finale.
However, she misjudged the move and ended up crashing to the floor. Instead of jumping back to her feet to take a bow, Trainor opted to make the most of the mishap by laying on the ground.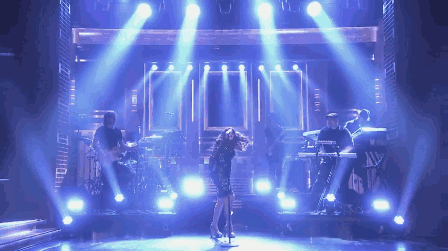 Fallon rushed to Trainor's aid and opted to lay down beside the singer, who could be heard saying, "I'm sorry." Despite her stumble, Trainor was given a standing ovation from the packed studio audience. The pop star continued her promotional tour by appearing on
Good Morning America
on Friday, when she brushed off the incident. "I'm feeling it today! I'm feeling little bruises everywhere!" she quipped to Robin Roberts. "Nah, I was fine, it was great." Trainor reveals she actually recorded a second take of her set for the pre-taped show, but ended up greenlighting the original performance, despite the failed finale. "I actually got up and was like, 'Let me do it again,'" she recalled. "And I did it again, but I looked at it and that (first run) was the better performance, so I was like, 'Ah, just keep it.'" Meanwhile, the 22-year-old confesses her previous release, "NO," was actually written out of anger at her record label boss, producer Antonio 'L.A.' Reid, after he urged her to push herself to try a new sound. "L.A. knew, because I had been writing for a lot of his artists too, like Fifth Harmony and Jennifer Lopez, so he knows what I'm capable of and he knew, like, 'You don't have to do the doo wop again (like her first album),'" she explained. "I didn't even wanna be stuck in doo wop, but I presented him with, 'Here's new doo wop,' and he was like, 'No, I know you can do more. Push yourself.' And he kept pushing me and I was so angry at one point I wrote 'NO,' and that was towards L.A. Reid, like, 'No, you gotta let it go!' He's like, 'This is it!'" As a result, Trainor's new album,
Thank You
, features a variety of music genres, including dance, rap and Caribbean-tinged tunes: "I tried to put all my favorite influences in this album," she said.