New Device Allows Anyone to Virtually Teleport Anywhere in the World
"Imagine being able to virtually teleport from one space [in the world] to another in real-time," says Shahram Izadi, a partner research manager with Microsoft. It's very likely to soon be a reality.
Microsoft, along with Interactive 3D Technologies, has developed what it calls holoportation, "a new type of 3D capture technology that allows high quality 3D models of people to be reconstructed, compressed, and transmitted anywhere in the world in real-time." In essence, you can be in New York City and virtually be in San Francisco for a business meeting with your partners, where you can interact with colleagues as if you were standing in the same room. Watch the incredible demonstration below: Holoportation works with a "HoloLens," which when placed on your head, you can see the 3D projection right before your eyes. "To make all this happen, we've had to create a new type of 3D capture technology. I'm surrounded by these 3D cameras that we've developed on our team. Each of them is capturing me from a separate viewpoint and we're fusing this data together to create a temporally consistent model," Izadi says as he explains how the system reconstructs a human form.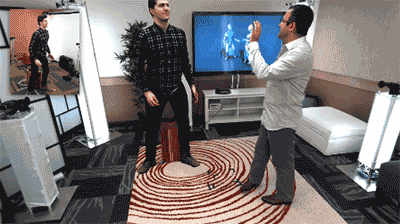 "Once we have these reconstructions, we can texture them. We can then compress the data and transmit the data," he concludes. The technology could potentially be a boon for those who travel often for work, as well as families separated by distance, such as our armed service members overseas. How great would it be for families to be able to virtually be in the same room with their loved ones as the service member is stationed thousands of miles away, or even in a foreign country? Izadi and Microsoft believe holoportation could "fundamentally change the way people will communicate in the future."