New York City Rats No Longer Interested In Pizza, Choosing Live Pigeons Instead
Lifestyle
| |
It seems rats in New York City have had their fill of pizza and have now acquired a taste for a finer dinner table staple, namely poultry.
That's what we can surmise after a video resurfaced online Tuesday of an epic struggle between a New York City rat in Brooklyn's hip, trendy Williamsburg neighborhood attempting to subdue a live pigeon. Watch the video below.
The video was originally published last year on YouTube by user John Feund, but has now gone viral as viewers are mesmerized by the epic struggle.
This video comes just weeks after a user uploaded a video of a rat (perhaps the same one??) carrying an entire slice of pizza down the subway stairs, theoretically to its underground lair shared with four martial arts trained turtles.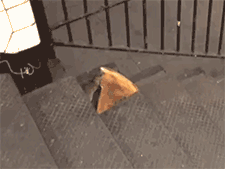 Others wonder if The Simpsons has once again foretold the future and this rat is preparing to become one with this pigeon in an attempt to escape staggeringly high rent prices and, as they say, fly the coop…
The rat was unavailable for comment at the time YDD went to press.