See First Spider-Man Action in New 'Civil War' TV Spot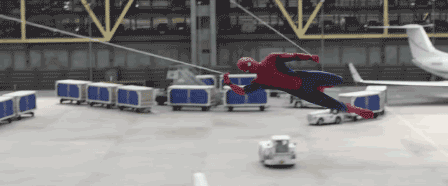 The hype for Captain America: Civil War is reaching fever pitch just two weeks from the premiere, and the latest TV spot is sending fans into a further frenzy.
In the new commercial spot, Spider-Man (Tom Holland) sees his real first action as he swings through a window in the highly-anticipated airport fight scene, taking out Falcon (Anthony Mackie) and then confronting Bucky Barnes/The Winter Soldier (Sebastian Stan) in a jaw-dropping moment.
Watch:
This is the second glimpse Marvel has offered fans for Spider-Man's (new) big screen debut, after the company first revealed the character in a full-length trailer in March. The web-crawler will join Iron Man, Captain America, and others as the Avengers team divides along political lines. But while the heroes battle each other, another threat looms in the background.
Early reviews for the film have been extremely positive, with the film review aggregator, Rotten Tomatoes, giving the movie a 97% "Fresh" rating, and early ticket sale projections pacing ahead of every other Marvel movie.
Captain America: Civil War smashes into theaters May 6.