Smiling Lemon Shark Looks Exactly Like Bruce From 'Finding Nemo'
Who said that sharks are menacing and terrifying creatures of the deep? Well, some are for sure, but one shark is hoping to change that narrative. A photograph of a smiling lemon shark has gone viral and the shark is being compared to Bruce, the great white shark from Disney's smash hit 
Finding Nemo
.
In the movie, Bruce is the leader of the fish-friendly shark group dedicated to not eat fish. However, his personality changes when his instincts start to kick in, and this turns him into a mindless, fish-eating shark (temporarily). Caters News Agency captured the incredible image and tweeted it, and many social media users quickly caught on.
JAW-SOME! Shark cracks a smile and looks hilariously like Bruce from Finding Nemo – https://t.co/MBBMCw4GVq pic.twitter.com/G5N2xHs21U

— Caters News (@Caters_News) March 22, 2016
Diver Kenneth "Wayne" MacWilliams caught the smiling shark on film in February 2016 while diving with Emerald Charters, which is based in Jupiter, Florida. In an interview with
Caters News Agency
, MacWilliams stated, "Since it appears as the shark is smiling, it made me smile." Lemon sharks are considered to be one of the friendliest sharks in the ocean. According to
Shark-World
, there have been only 22 known attacks on humans by lemon sharks, with no fatalities. They have been known to feast on rays, fish, birds and even other sharks, but humans just aren't on the menu.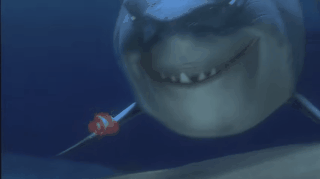 Looks like this one remembers the fish-friendly shark's motto: "I am a nice shark, not a mindless eating machine. If I am to change this image, I must first change myself. Fish are friends, not food." In this case, it seems humans are friends too. Speaking of Bruce, it is certain that he and his group will be returning in the sequel 
Finding Dory, 
which hits theaters June 17. Check out the the trailer below.