Snoop Dogg Takes Aim at President Trump in New Video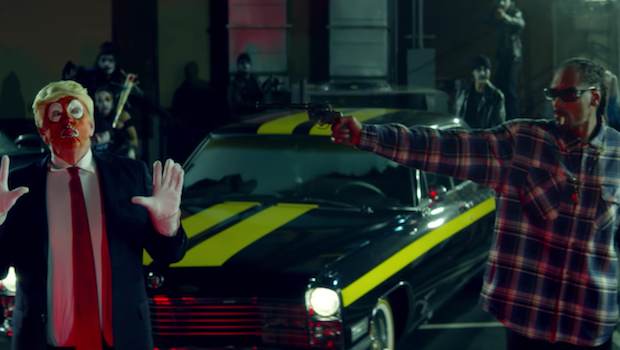 Snoop Dogg has literally taken aim at Donald Trump in his new music video. The rapper points a gun at a clown-styled President Trump in the promo for "Lavender," his remix of BadBadNotGood and Kaytranada's hit track.
Snoop
is transported to a universe populated by clowns in the video and actor/comedian Michael Rapaport portrays a police violence victim, who is shot by a cop as a bystander films the incident and then uploads it to ClownTube.
Snoop
Dogg, who took part in a rally to bring cops and the Los Angeles black community together last year, attacks police brutality on the track, rapping, "Trying to keep from dying in these muthaf**kin' streets/F**k the police, from a black man's point of view." Directors Jesse Wellens and James DeFina have revealed the video concept was inspired in part by the fatal police shooting of Philando Castile in July. Talking about his provocative new video and the clown Trump character,
Snoop
tells
Billboard
, "The (Muslim) ban that this motherf**ker (Trump) tried to put up; him winning the presidency; police being able to kill motherf**kers and get away with it; people being in jail for weed for 20, 30 years and motherf**kers that's not black on the streets making money off of it — but if you got color or ethnicity connected to your name, you've been wrongfully accused or locked up for it, and then you watching people not of color position themselves to get millions and billions off of it… "It's a lot of clown s**t going on that we could just sit and talk on the phone all day about, but it's a few issues that we really wanted to lock into, like police, the president and just life in general."