Solar Paper Brings Sustainable Energy Anywhere With the World's Thinnest, Lightest Solar Charger
An ultra-light and super-versatile solar panel charger is about to change the game when it comes to battery power on your portable device, not to mention a boon to renewable energy everywhere. Solar Paper is the "world's thinnest and lightest solar charger," according to the company's website. On top of that, the charger works through standard USB, meaning it can charge almost any device, including "smartphones, tablets, walkie talkies, flashlights, portable game consoles, cameras, video cameras, and rechargeable batteries."
The company states the Solar Paper can charge an iPhone 6 in about two and a half hours with the standard 5-watt charger.
Solar Paper is so thin, it "can be placed inside your note or planner," the company's Kickstarter page
states
. But we're only getting started on the benefits Solar Paper offers. Additionally, Solar Paper is completely water-resistant, making it an ideal travel companion.
"Goes Anywhere: Solar Paper is so lightweight that outdoorsy types can clip it to a backpack and charge while hiking. Urban adventurers can easily slip it into a jacket pocket or notebook," the company stated.
But there's still more.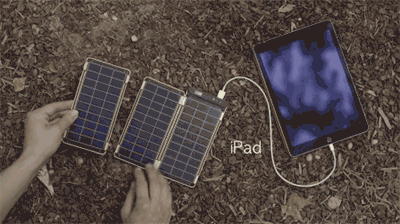 The Solar Paper is expandable. While the standard 5-watt charger works fine for a smartphone, you can attach additional Solar Paper panels together to charge larger devices – like tablets – or boost your charge on a cloudy day. The additional Papers then fold together in a convenient, easy-to-pack set. Want to learn more? Head on over to the
company's website
. Order
Solar Paper
here.