Suspected Bank Robber Interrupts Live TV Broadcast By Returning To The Scene Of The Crime
Advertisement
Sallet was simply doing his job when the robber tried to rob the bank once again. A bank employee can be seen on camera running past Sallet following the robber during his escape attempt. "Oh, that's the robber!" Sallet said. "Uh, this is live TV, folks. That's the robber [who] just went by, according to the bank employee," he continued. "So, I got to go here and call 911. I'll talk to you later."
Setting up for my live shot. I doubt a criminal will be jogging past me, but you never know. Watch @KIMTNews3 #rochmn

— Adam Sallet (@AdamSalletKIMT) December 16, 2015
The initial robbery happened late Monday morning, when the robber told the teller he had a gun. He left with an undisclosed amount of cash and fled the scene. Having a successful first trip, the robber thought he could get away with it once again. He returned to the scene of the crime on Tuesday and fled in a stolen van. Thankfully, about an hour later the suspect was caught.
According to the Minneapolis Star Tribune
, he was "wearing a sweatshirt from a Minneapolis road race with the words 'get lucky'" when he was found. Watch the hilarious live TV broadcast that helped lead to the arrest below.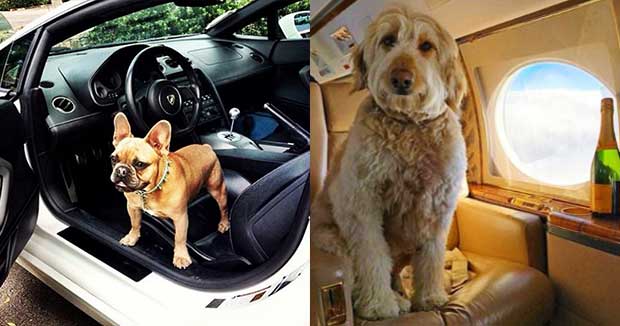 Meet the Rich Dogs of London Living the Most Lavish Life
If you've ever checked out the Rich Kids of London Instagram, you've seen the elaborate and lavish lifestyle some teens are living in the city of London. The teens are now taking the pictures to the next level with a new account strictly for their pets. The account, called Rich Dogs of London,…
click here to read more
Advertisement
A bank robber is in custody Wednesday after a bizarre turn of events during a live TV broadcast led to the criminal being captured. Adam Sallet was reporting outside a Minnesota State Bank on Tuesday following up about an attempted robbery the day before when the robber returned to the scene of the crime.