These Three Bears are Utterly Confused About a Floating Pink Balloon
Balloons are great entertainment for everyone, especially for these three bears. Three bears at the Safaripark Beekse Bergen in the Netherlands got a temporary new toy when a pink balloon floated into their enclosure. The bears, never seeing an object like it before, were shocked and mesmerized by the balloon. They simply could not figure out what to do with it.
Turns out bears react similarly to little kids when playing with a balloon. Zoo-goer Xaviera Simmons captured the moment on camera and posted the video to
Facebook
. The short video already has over 82,000 views.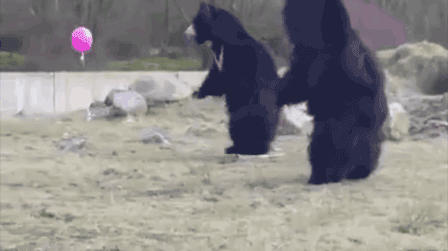 For being such large and stealthy creatures, these bears are calm and quite dainty around such a harmless and small object. Sadly, the bear's claws and the fragile balloon didn't mix well and the bears' fun was quickly cut short. Check out the full video below!
"Beren maken kennis met een ballon!" Wilde deze video graag delen omdat je de beren maar weinig op deze manier ziet ? (we hebben in de gaten gehouden dat de beren en apen de ballon niet op aten). Groeten Xaviera Simons Posted by Xaviera Simons on Tuesday, March 8, 2016