18 TV Shows That Had Cast Changes and Hoped We Wouldn't Notice
Advertisement - Continue reading below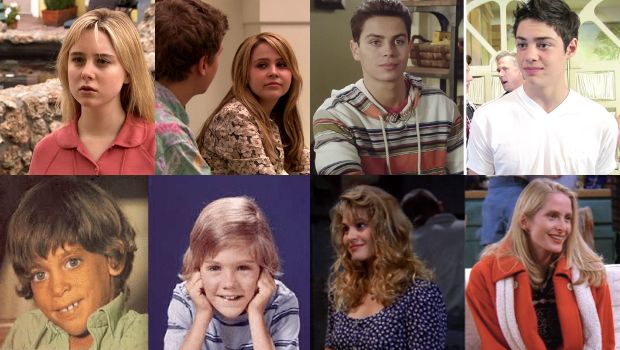 You're watching your favorite television show for another exciting season, but something about a particular character seems…off…
From oldies like The Partridge Family and The Honeymooners to newbies like Friends and Modern Family, these are 18 television shows that had sudden cast changes which you might not have even noticed.
And if you did notice, then you are clearly pretty observant or you fancy that show in particular. Alternatively, the actor/actress replacement was obviously just way off!
Fresh Prince of Bel Air
Vivian Banks went three years played by Janet Hubert, from 1990 to 1993, until it came time to renegotiate contracts. She apparently was done due to her and Will Smith having irreconcilable problems with each other.
Then, Daphne Maxwell Reid filled in from 1993 until the show's finale in 1996.
Last Man Standing
The hit show by Tim Allen replaced three characters between season one and two due to "creative differences," of course.
Kristin, the daughter, went from being played by Alexandra Krosney to Amanda Fuller. The son, Boyd, was at first played by Luke/Evan Kruntchev before replaced by Flynn Morrison. And the father of Boyd, Ryan, was Nick Jonas in the first season until he was swapped out for Jordan Masterson.
Family Guy
Meg Griffin wasn't always Mila Kunis.
In the first season, Lacey Chabert voiced her. However, school and being a part of Party of Five created time conflicts.
Bewitched
Darrin was played by Dick York at first, a fan favorite, before he suffered an awful back injury while shooting a film and had to quit.
It was another Dick – Dick Sargent – who replaced him.
That 70's Show
Laurie Forman was played by Lisa Robin Kelly, until she was replaced by Christina Moore because of Kelly's drinking problem. Kelly died in 2013 from accidental drug intoxication.
Roseanne
Becky was originally played by Alicia "Lecy" Goranson, and for a while – from 1988 to 1996.
She was replaced by Sarah Chalke (Scrubs) shortly after attending college, and then came back to play the role, and then got busy occasionally and had Chalke fill in from time to time!
Dallas
The beloved Miss Ellie was played by Barbara Bel Geddes until the year 1984 when a bypass heart surgery changed her mind about continuing the show.
So Donna Reed played the roll. Apparently, no one liked that, and Geddes came back after some convincing.
Arrested Development
Ann Veal, the religious girlfriend of George Michael, was played by Alessandra Torresani for a short while until Mae Whitman replaced her.
And it was all according to plan too, because the writers wanted her to be forgettable.
The Partridge Family
Chris, the youngest brother, was played by the Jeremy Gelbwaks, but things didn't seem to be working out with him in the cast.
The first season ended and Brian Forster took over for the second season.
The Munsters
In the first 13 episodes, the role of cousin Marylin was played by Beverly Owen, but she broke her contract by moving to New York and getting hitched.
Pat Priest replaced Owen. Unfortunately, Owen was not only banned from the studio for five years, but she got divorced eventually.
Sesame Street
Gordon, from 1969 to 1972, was played by Matt Robinson, who wasn't a big fan of the spotlight and left to work behind the scenes on the show.
Hal Miller filled in and then Roscoe Orman replaced him permanently.
The Fosters
Jake T. Austin played none other than Jesus himself until Noah Centineo replaced him two seasons later.
The O.C.
The famous Shailene Woodley played the role of Kaitlin Cooper, who was Marissa's younger sister, for just the pilot episode.
Willa Holland replaced her from then on and, as you know, Woodley went on to do some pretty great things.
Modern Family
Lily, the baby, was at first played by Jaden/Ella Hiller after their parents responded to an ad on Craigslist (of all places). Aubrey Anderson-Emmons took over later on.
Friends
Carol, Ross' ex-wife (the first one) was played by Anita Barone until Jane Sibbett took over for seven seasons until the finale.
Game of Thrones
Actor Ed Skrein played Daario Naharis in season three, before Michiel Huisman took over in season four.
Skrein went on to take a lead role in The Transporter: Refueled. It is also worth mentioning Tommen Baratheon was played by Callum Wharry, and then replaced by Dean-Charles Chapman.
The Honeymooners
Alice was played by Audrey Meadows, but originally the role was for Pert Kelton.
Kelton left for health issues, or her husband getting blacklisted. It is unclear.
My Wife and Kids
Claire, the daughter, was played by Jazz Raycole only in the first season until her mother pulled her out because Claire's friend was scheduled to get pregnant on the show.
So, Jennifer Freeman took over.
Advertisement - Continue reading below