Warning for Pet Owners: This Plant Can Be Deadly for Your Dog
A public service announcement for pet owners: There's a plant that's extremely poisonous and deadly to your dog.
The plant is called a sago palm. It's an indoor/outdoor ornamental plant and it kills about ¾ of dogs that have ingested it. 
Why so harmful? The plant is extremely toxic, all parts from the seeds to the leaves, causing vomiting and seizures within 24 hours. Even just one seed is lethal and kills about 30% of dogs that ingest the plant.
ABC News interviewed dog owners Taylor and Tiffany Smith, who lost their dog two days before Christmas, but didn't understand the cause of death. It wasn't until the Smith's new dog began to have similar symptoms of seizures after it chewed on the plant hours earlier before the couple put it all together. 
After conducting some research on the toxic plant, the couple immediately took their second dog to the vet. Although he was already at stage-3 liver failure, luckily he did survive.
But the Smith's are hardly the only dog owners who have experienced this harmful plant and its affect on their pets.
In the past 10 years, more than 1,400 dogs have been poisoned by the sago palm plants and 34 have died. If this plant has such harmful effects, why aren't the plants regulated?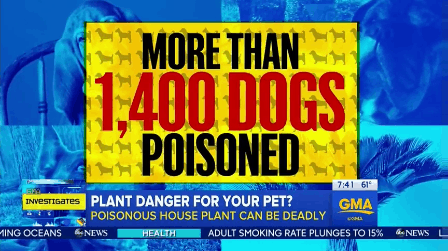 ABC News investigated how stores are properly informing their customers about the harmful plant, visiting 11 different home stores across the country.
All 5 Lowe's locations that ABC News visited didn't have any warning labels, since it's left to each individual store's discretion to ensure proper labeling.
How can you protect your pet? Well Taylor and Tiffany Smith suggest that you "remove the plants… they're not worth it" when it comes to potentially deadly affect it has on your best friend.