Watch This 6-Month-Old Baby Girl Break a Water Ski World Record
This 6-month-old may not be able to walk yet, but she just broke the world record for being the youngest person to water ski. Zyla St. Onge broke the Guinness World Record on Saturday after water skiing for 686.4 feet, reported
ESPN
. World Barefoot Center in Florida released the video of the baby zipping across the water while strapped into a bright pink life vest.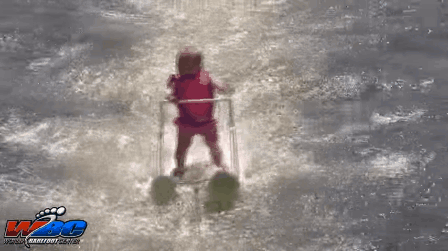 Keith and Lauren St. Onge, both professional water skiers, watched proudly on the sidelines as their daughter was pulled across the lake. "We practiced in our living room with the skis and we kind of pulled her around," Lauren St. Onge shared with the 
Huffington Post
. "She would just look around and smile and wait for you to cheer for her. She just loves the attention." Zyla St. Onge was able to break the previous record for being the youngest by just two days. The record breaking attempt took two tries, as she only made it 62 feet the first time around.
"We're just super excited," Lauren St. Onge said. "People are loving it. We're just excited to get the sport out there." Check out the little daredevil below!