Watch Emilia Clarke and Sam Claflin Fall in Love in First 'Me Before You' Trailer
Entertainment
| |
You're going to need the tissues for this one. The first trailer for the film
 Me Before You
premiered Wednesday, giving fans a preview into the sweet love story between an unlikely pair.
Based on the book by the best-selling author, Jojo Moyes, the film follows Louisa Clark (Emilia Clarke) during her struggle to find the right job after being let go from her previous workplace at a café. After many failed attempts at employment, Clark lands a position as a caretaker for Will Traynor (Sam Claflin), despite being highly unqualified. After a horrific accident, Will becomes a quadriplegic and is bound to a wheelchair. Since the accident, Will has lost the thrill that used to run through his bones. After a rough start between Louisa and Will, an unlikely romance starts to develop. Louisa learns to live outside her comfort zone thanks to Will and in return, the thrill of living comes back to him. However, Will has a hidden agenda that leaves a gaping hole in their future together.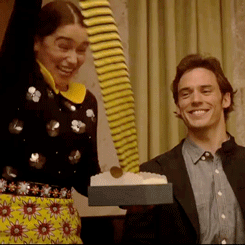 The
Game of Thrones
star first read Moyes' book while filming
Terminator Genisys
. Clarke told
USA Today
that she's definitely more like the "goofy, regular-girl" Louisa seems like in the trailer. "It's funny with these strong female roles," added Clarke. "I'm really quite clumsy, say the wrong thing all the time and am awkward at the best of times. My friends and family have seen this other person every single day." Director Thea Sharrock shared that the "film captures the tone of Jojo Moyes'" heartwarming novel. Moyes wrote the screenplay with some assistant from Scott Neustadter and Michael H. Weber. Neustadter and Weber previously worked on
The Fault in Our Stars,
so they know the way around a tearful love story. A slew of British talent including
Doctor Who's
Jenna Coleman,
Harry Potter's
Matthew Lewis,
Game of Thrones'
 Charles Dance and
Downton Abbey's
Brendan Coyle round out the ensemble cast with Clarke and Claflin.
Me Before You
hits theaters June 3. Watch the heartwarming trailer below!