Energetic Pup Pops 100 Balloons to Break Guinness World Record
Ever wonder who held the record for popping 100 balloons the fastest? Well, wonder no more! Meet Twinkie, the Jack Russell terrier who just broke a Guinness World Record. Twinkie is the current world record holder for "fastest time to pop 100 balloons by a dog." Check out the world record breaking skills below.
Twinkie was able to pop all of the balloons in 39.08 seconds! That's a balloon every 2.5 seconds.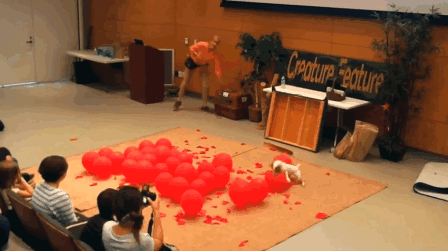 Popping balloons seems to be in Twinkie's blood as its' mom, Anastasia, broke the record twice in 2005 and 2008. Anastasia held on to the title for seven years and even performed her talents on 
Live with Regis and Kelly
. See Anastasia at work below. Twinkie broke the current record that was previously held by Cally the Wonderdog at 41.67 seconds.