This Woman's Apartment Fire Story May Be the Funniest Interview Ever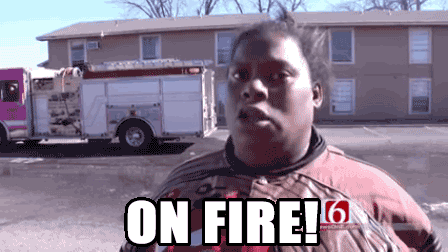 An Oklahoma woman is Internet famous today after her news interview this past weekend has gone viral and, needless to say, you'll want to hire her to tell all of your stories for the rest of your life. A fire at an Oklahoma apartment complex over the weekend left more than 100 residents without power. Nobody was injured in the blaze, but based on the animated storytelling of resident Michelle Dobyne, the relatively unremarkable event was larger than life. Watch the interview below.
Dobyne's eccentric storytelling was a hit within the KOTV newsroom, so much so, they felt they needed to share her story unedited. For your pleasure, we've transcribed Dobyne's story here:
"My friend came to the door and she said… well I was on the phone cooking me and my baby some breakfast, and she said, 'Hey, something is wrong — it's poppin!' I said 'What!?' She said 'Yeah,' I said 'Nah!' So the girl comes downstairs, she comes out of her apartment with her baby with no shoes on, I said 'Ah girl it's cold outside!' She said 'Something ain't right!' I said 'Aw man!' and she said 'Aw man, the building is on fire!' I said 'Nah, what?' and I grabbed my three kids. We bounced out… ain't gonna be in no fire, not today!"
The video has become a huge hit over the Internet and social media networks, racking up nearly 25 million views and over 750,000 likes and shares on Facebook alone in the past two days. It's early into 2016, but it seems like we are maybe crowning our Meme of the Year already.