This 7-Month-Old Baby Has Dwarfism, Causing Him to Stay the Size of a Newborn
Advertisement - Continue reading below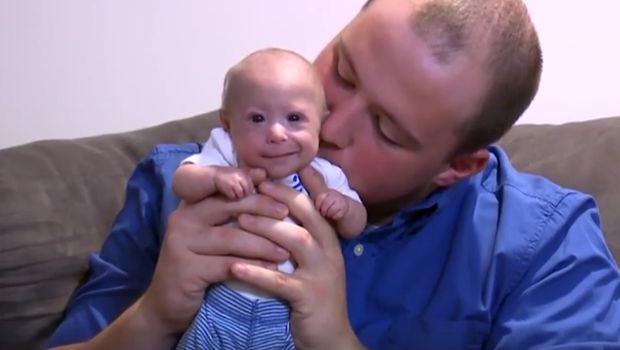 So small, so cute, and so good to know he will be just fine.
This 7-month-old baby has a rare form of dwarfism that keeps him as small as a newborn but size will be the only difference between him and others his age.
In Louisville, KY, Matthew was born 28 weeks after his mother, Jenevieve Cook, became pregnant and weighed only one pound at birth. He remained in neonatal intensive care unit (NICU) for 98 days following his birth and now weighs just over three pounds at seven months old.
"We were told that Matthew would walk, he would talk, he would go to regular school," Cook told WLKY News Louisville. "He would just be extraordinarily small."
Much of the little guy's clothing is not even produced for children, but rather dolls and for Build-A-Bear products.
In addition to his Type II Primordial Dwarfism, Matthew was also born with a deadly brain disorder called microcephaly and he was expected to have a very short life and a hard one at that.
However, he is doing just fine now and will be undergoing skull surgery to prevent stroke or brain aneurysm.
"Matthew will be just like everybody else… a regular kid… just extra small," Cook said. "Nothing wrong with being different."
Watch tiny Matthew in action:
Advertisement - Continue reading below