Awesome Artist Gender-Swaps 'The Avengers' Characters and It's Everything
Advertisement - Continue reading below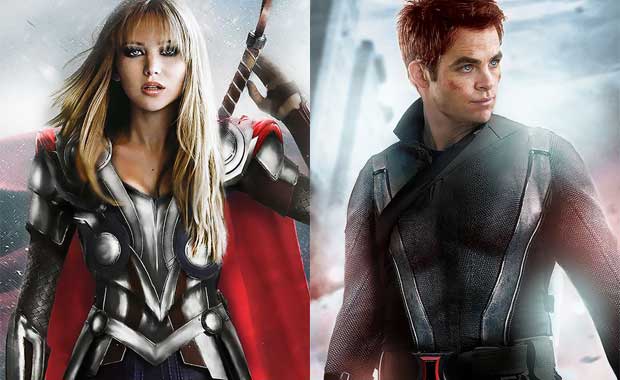 Over the course of the 10 or so Avengers movies that have raked in billions at the box office, there have been a plethora of style changes to the heroes' suits. But one artist is taking the changes to a whole new level.
Tumblr user Disimilis, whose page lists her as "Agnes, 18, [from] Hungary," unveiled an exquisite set of Avengers artwork where the artist swapped the genders of the superhero team members. A female Iron Man is Kate Beckinsale? Jared Leto as the Scarlet Warlock? We'd see that movie!
Take a look at these amazing artist concepts taking some of Hollywood's most famous superhero faces and swapping them with their female/male counterparts. Which one is your favorite?
Captain America a.k.a. Sarah Rogers (Amber Heard)
Black Widower a.k.a. Nikola Romanoff (Chris Pine)
Director Nikita J. Fury (Kerry Washington)
Iron Woman a.k.a. Antonia Stark (Kate Beckinsale)
Thor a.k.a. Jane Foster (Jennifer Lawrence)
Quicksilver a.k.a. Pietra Maximoff (Theresa Palmer)
Loki (Kristen Stewart)
The Hulk a.k.a. Betty Banner (Mila Kunis)
Scarlet Warlock a.k.a. Walter Maximoff (Jared Leto)
Hawkeye a.k.a. Laura Barton (Shailene Woodley)
The Falcon a.k.a. Samantha Wilson (Zoe Saldana)
Winter Soldier a.k.a. Becky Barnes (Emily Blunt)
Advertisement - Continue reading below