WATCH: Fiona the Hippo Photobombs Couple's Proposal
Advertisement - Continue reading below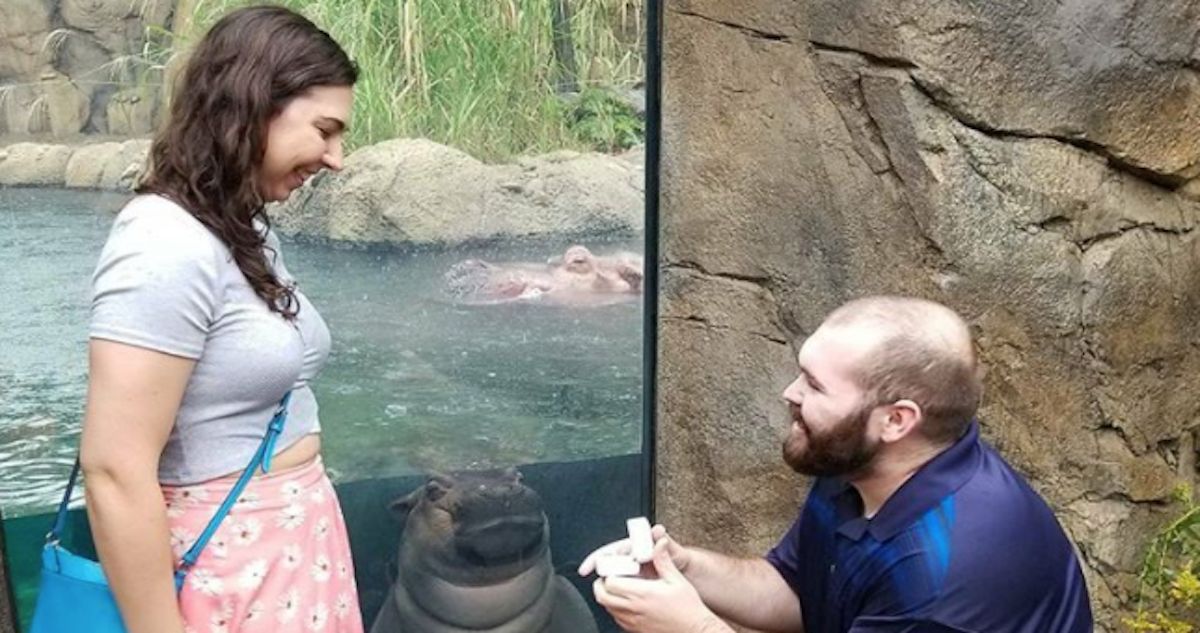 Fiona the hippo made sure to get a front-row seat during this incredible proposal.
Nick Kelble and Hayley Roll were visiting the Cincinnati Zoo to celebrate their one-year anniversary. Roll thought they were just at the exhibit to get their picture taken with Fiona. However, Kelble had a different idea and planned to propose to Roll right in front of Fiona's exhibit.
"Nick, my boyfriend, and I were waiting in line to get our photo taken with Fiona, and I gave my cell phone to someone to take the photo and when I turned back around, Nick was on one knee proposing," Roll told the Daily Buzz.
Kelble did not tell anyone at the zoo he was planning to propose, so it was truly a coincidence that they were able to get the baby hippo in the photo. As soon as Kelble got down on one knee, Fiona pressed her nose against the glass to get the perfect view of the proposal.
Fiona was born prematurely at the zoo this past January, and has since gained a major following on the internet. The adorable hippo has gone viral many times, so it was no surprise to see her popping up once again.
"We are huge #TeamFiona fans and have been following her since she was born," Roll wrote on Instagram. "We're so happy Fiona could be there on our special day. Here's to many more years of going to zoos with you"
After the proposal, Fiona stuck around to get a few official photos with the newly engaged couple. Congrats to the happy couple!
Make sure to SHARE this adorable story with all of your friends!
Advertisement - Continue reading below