Graffiti Artist Banned From 20 Percent of the US After Reddit Tracks Her Down
Advertisement - Continue reading below
In another episode of "social media comes together for a common good," Reddit users tracked down a graffiti artist vandalizing national parks, which managed to get her banned from all of them, including other "federally administered land," according to The Guardian.
The artist, Casey Nocket, began defacing national parks in 2014 using acrylic paint, which is notoriously hard to get off, all the while posting pictures of her "art" to her Tumblr and Instagram accounts.
When questioned on one of her posts about her use of paint instead of chalk, she wrote, "I know, I'm a bad person."
Now, however, Nocket is probably kicking herself for posting evidence of her crimes to social media. She recently confessed to vandalizing seven national parks and, in addition to being banned, will also serve 200 hours of community service.
But all this was thanks to the good people of Reddit who first reported Nocket's behavior in a post that quickly spread and outraged users. The post caught the attention of Casey Schreiner who then wrote about Nocket for Modern Hiker, and that's when the story really went viral.
Yosemite park investigator Steve Yu commented on the Reddit post asking for any information anyone may have had. Yu also reached out to Schreiner for the photos of Nocket's work, according to The Guardian.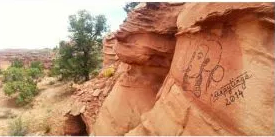 Apparently, a petition was even started calling for the government to punish Nocket for her crimes.The backlash against Nocket became so bad that Schreiner told The Guardian that he kept having to delete comments posting Nocket's home address in New York.
"I understand that it comes from an emotional place and I too felt that disgust. But I wish that people could focus the energy of leaving tirades in internet comments into volunteering in a national park, or donating to a national park [instead]," he told the paper.
The parks Nocket defaced include: Rocky Mountain National Park, Death Valley, Colorado National Monument, Canyonlands, Zion, Yosemite, and Crater Lake. All the parks account for about 20 percent of the United States that Nocket is now not allowed to step foot in.
The ban reportedly lasts for about two years, but we wonder how long it will take her to complete her required community service.
Advertisement - Continue reading below