The Cast of 'Crocodile Dundee:' Where Are They Now?
Advertisement - Continue reading below
Crocodile Dundee was an unexpected smash in 1986, becoming the second highest grossing film of the year and introducing (an admittedly stereotypical version of) Australian culture to the world. The film became a franchise, with two sequels being released, the last in 2001.
What's happened to the cast since? Let's find out.
John Meillon (Walter Reilly)
Long before he played the titular character's business parter in the first two Dundee films, John Meillon was a well known British stage actor. Sadly he passed away shortly after filming the second Croc movie.
Mark Blum (Richard Mason)
After portraying the villainous Richard Mason, Mark Blum went on to a successful TV career with appearances on Frasier, The Sopranos, The West Wing, and many others. Lately, he can be seen as a regular on the Amazon series Mozart in the Jungle.
Reginald Veljohnson (Guss)
Perhaps the most well-known actor to come out of the Croc movies, Veljohnson was able to take the role he perfected in films such as Die Hard and translate it into TV success. He starred on Family Matters for years, and has since appeared in numerous cameo roles, including most recently Girl Meets World.
Linda Kozlowski (Sue Charlton)
Linda Kozlowski did such a good job as Dundee's love interest that star Paul Hogan left his wife for her. The couple married in 1990, though sadly divorced 13 years later. These days, Kozlowski runs a tourism business.
Paul Hogan (Mick "Crocodile" Dundee)
Following the success of the first film, Paul Hogan became s star. Unfortunately for him he turned down the lead role in the film Ghost, instead focusing on the two Dundee sequels. Neither lived up to the first, and Hogan faded from the limelight. Today he focuses mainly on raising his son.
Steve Rackman (Donk)
After portraying strongman Donk in all three Dundee films, Rackman retired from acting and opened up a gym in Australia.
Gerry Skilton (Nugget)
Acting roles dried up for Skilton after playing Nugget in every installment of the Croc trilogy. In recent years, he's tried to sell a spin-off series based on the series with Hogan's blessing.
Terry Gill (Duffy)
Terry Gill worked regularly in the years following the film, retiring in 2013 after one last role on the TV series It's a Date.
Ritchie Singer (Con)
Singer has worked steadily in the decades since Dundee, most notably on TV series IT Crowd.
Paul, Linda and Chance – Then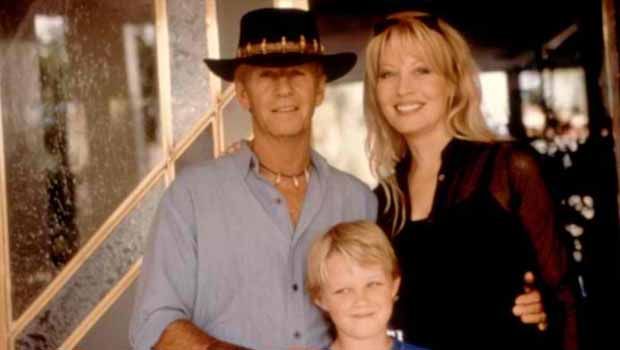 Back in happier times…
Paul, Linda and Chance – Now
… before having to deal with the reality of divorce.
Advertisement - Continue reading below