Spellbinding 'Fantastic Beasts' Trailer Released During MTV Movie Awards
Advertisement - Continue reading below
Welcome back to the wizard world of Harry Potter.
On Sunday, the newest Fantastic Beasts and Where To Find Them trailer debuted during the MTV Movie Awards and it looks epic. In the trailer, it gives us a clearer vision of what the American wizarding world was like circa 1926. Newt Scamander (Eddie Redmayne) has just arrived in New York, and happens to be smuggling two creatures with incredible magical powers. When one of them escapes, everything descends into chaos.
Fantastic Beasts and Where To Find Them is based on J.K. Rowling's 2001 book and is a prequel to the Harry Potter series. Roughly, it takes place 70 years before the Harry Potter story.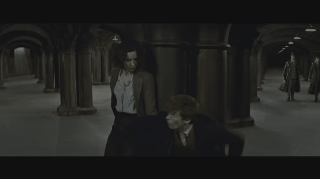 However, one major character in the Potter series may play a huge role, as it's revealed Scamander attracted the attention of Albus Dumbledore, the former Hogwarts headmaster.
Fans will get to dive back into the Harry Potter universe this fall as Fantastic Beasts and Where To Find Them hits theaters on November 18.
Advertisement - Continue reading below