Guilty Labrador Dog Hides After His Sister Destroys Bed
Growing up, you usually didn't want to tattle on a sibling to your mom and dad when they did something wrong. But some of us have better poker faces than others! So when Abby and Tobby, two golden Labrador retrievers, were found at the scene of the crime together, things got interesting when Tobby started to feel guilty for something his sister did. The dogs' owner, Jennifer Kinderman, came home to find green fluff from a dog bed strewn all over her apartment. She immediately started filming to document the evidence.
In the video, golden Lab Abby circles and struts proudly around the bedding, wagging her tail. "Who did this?" Kinderman asks her, but Abby just keeps wagging her tail at her mom.
Kinderman then zooms way into the kitchen in the background. There's Tobby, hiding half his furry body behind the fridge, sitting very still and looking ashamed. "Do
you
know?" Kinderman interrogates her second Labrador retriever.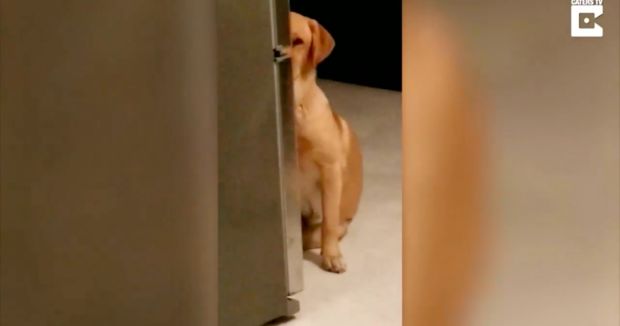 While this may seem to be a cut-and-dry prosecution that clearly proves Tobby's guilt,
Inside Edition's
 dog-themed crime feature
Paw and Order
got down to the bottom of the case, and it's a twist ending. It seems Abby, who already ripped apart a previous bed earlier in the week, is the main suspect. Even worse, both destroyed beds belonged to her brother! Now poor Tobby, who in the video clearly doesn't want to snitch on his sister, doesn't have a bed for the second time in a row.
The things dogs do for family!
At least Abby is a pretty cute puppy, so she only just gets away with it, while Tobby gets another a new bed. If you like this story about the adorable crimes of Abby the Labrador and her reluctant accomplice
and
 victim Tobby,
SHARE
it with your dog-lover friends!
(H/T: Inside Edition)