Two Waste Collectors Rescued a Cat From Certain Doom
Advertisement
cats have nine lives
. One Pennsylvania feline, whose become known as Miracle Maisy, needed all of hers — plus the help of two heroic trash collectors — to survive a dangerous situation. Earlier this month, the two waste collectors were preparing to crush trash in their garbage truck while on their usual route when they heard a strange sound emanating from one of the trash bags. The men shut down the machinery just in the nick of time, then went on to make a gruesome discovery.
The trash collectors found a beaten cat jammed into one of the bags, tied into a blanket and doused in gasoline. The duo immediately rushed the animal to
Humane Pennsylvania
, where her condition alarmed even the organization's hardened staffers. "She was matted. She was terribly bruised from the beating she had taken," Humane Pennsylvania President and CEO Karl Minor told television WFMZ. "Her eyes were closed. Really looked horrible.
We didn't know if she was going to survive
." Despite her injuries and spending nearly a full day in the trash, the kitten — dubbed Miracle Maisy by the staff who cared for her — quickly began recovering from her injuries. The organization has tracked Miracle Maisy's recovery on their Facebook page,
detailing the kitten's recovery, entry into foster care, and eventually her adoption
. They also took the time to reach out and thank her rescuers: While Miracle Maisy is nearly ready to be adopted, authorities are still searching for the perpetrators of her horrendous attack. Please share this story to get the word out. If you have any information, please contact Crime Alert via anonymous text to 847411, starting the message with keyword alertberks, or by calling 877-373-9913. Your Daily Dish spoke Mary Kelly, Humane Pennsylvania's Marketing Manager, about the reaction to Miracle Maisy's story. She told us: "We have received an overwhelming and positive response to Maisy's story. Though Maisy had a rough start in life, she is now happy and healthy and will soon be in a forever home! We cannot thank our supporters enough for the outpouring of donations that paid for Maisy's medical expenses and for the well-wishes that kept our staff strong in tending to such a horrific case of neglect and torture. Unfortunately, there are many animals like her who do not receive the same attention and care, but Maisy is shining a light on animal abuse and has become a beacon of hope for numerous abandoned, neglected and abused pets. Humane Pennsylvania has always had an open door policy, and it is our hope that pet owners who find themselves unable to care for their pet will turn to us for help."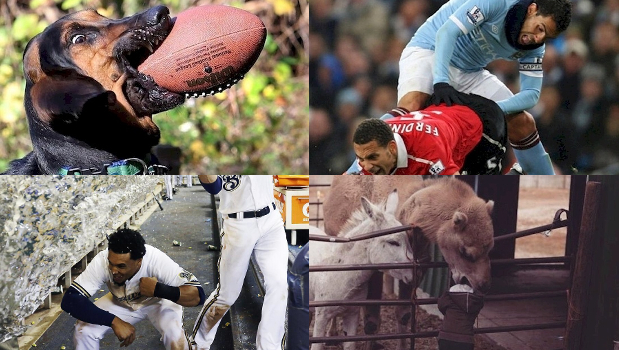 The 20 Most Perfectly Timed Photos Ever Taken
Timing is everything! Sometimes ordinary things are going on and yet the camera goes off. Suddenly, there's something unusual captured, like a boy having a butterfly eye or two football players seemingly in love. And other times there are just weird occurrences that happened to be frozen in time thanks to a…
click here to read more
Advertisement
For centuries, legend has said that