Photo of 'Little Miss Flint' Looking Horrified With Donald Trump Goes Viral
Advertisement
Donald Trump's trip to Flint, Michigan just keeps getting worse.
Amariyanna Copeny, an 8-year-old girl known affectionately as "Little Miss Flint," famous for reaching out to President Obama about the lead in the city's water supply and meeting him earlier this year, also got the chance to meet this year's Republican nominee.
According to her mother, LuLu Brezzell's Facebook, Copeny "did not get a chance to ask Donald Trump the one question she wanted to ask him, which was 'What are you going to do for the kids here in Flint'. (sic) Flint did a great job of running him out just as fast as he got here. He did stop to meet her while being rushed out of the building. His speech came across to me as a 'quick google search on facts about Flint', he didn't get chance to finish. (sic)"
Advertisement
With that being said, Copeny did get a picture with Trump, and it is as glorious as it is awkward:
Now, to understand how truly rough this is for Trump, one has to compare this photograph to Little Miss Flint's reaction to meeting President Obama earlier this year.
Of course, as we all know, Twitter is the people's playground and as such, comparison shots were constructed between the meetings:
Many tweeters recognized and sympathized with Little Miss Flint's apparent horror:
Ouch. Is 2016 even real???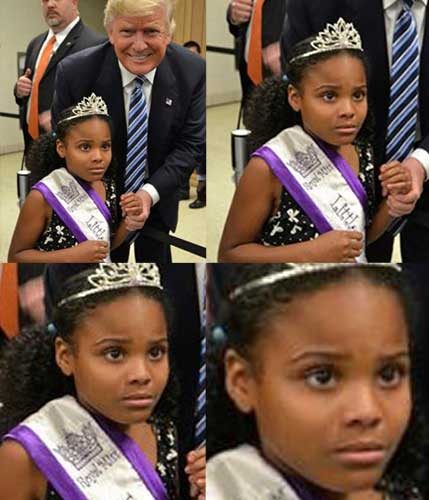 Advertisement