Donald Trump's Awkward Church Appearance Goes Viral After Pastor Interrupts Him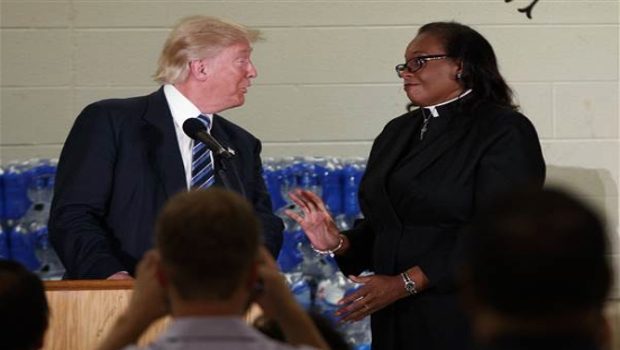 In the latest episode of "Trump Says the Darndest Things" the Republican presidential candidate was recorded doing a speech in a Methodist church in
Flint, Michigan
. Trump had been invited to speak on the
scandalous water situation
there where
drinking water became polluted
and linked to at least 10 deaths. Taking the stage, Trump attempted to throw some jabs at his political opponent, Hillary Clinton, during the speech. Unfortunately for him, that did not last long:
In the middle of Trump seemingly listing Clinton's failures, Reverend Faith Green Simmons walked onto the stage and said, "Mr. Trump, I invited you here to thank us for what we've done in Flint, not give a political speech." Trump replied with what can only be described as surprised relief: "Oh? Oh! Okay, okay, back to Flint." There was some scattered applause in the audience, and as Trump continued on, this time referencing the damage in Flint, a few audience members, no doubt emboldened by the Pastor, took their chance. A few hecklers began, including one woman asking Trump to address alleged discriminatory housing practices in his buildings. Trump responded with "No. Never would. Never would." As he tried to continue, more hecklers began, until, surprisingly, the Pastor spoke up again, this time in his defense, saying "Mr. Trump is a guest at my church, and you will respect him." According to
NBC News
, Michigan People's Campaign members took credit for the interruptions regarding Trump's DOJ-investigated, discriminatory housing practices. Many may recall them being the same protest group that interrupted Trump's August economic speech a whopping 14 times in Detroit: Trump's awkward visit to the Flint church has since gone viral, which is not surprising since his every move seems to devour the internet.
Advertisement
More Articles from YourDailyDish