Owen and Haatchi: Just A Boy, His Dog And The Power Of Love
They say a dog is man's best friend. But for Owen Howkins, age 8, his dog has also helped transform his life.
Owen suffers from Schwartz-Jampel syndrome, a rare genetic disorder in which his muscles constantly seize involuntarily. According to Owen's father, Will Howkins, at present there are only around 30 people worldwide with the condition and only about 100 documented cases ever on file. Confined to a wheelchair and struggling with his disease and a fear of being different, Owen was withdrawn and anxious, especially in the presence of strangers.
That was until Owen met Haatchi, an Anatolian Shepherd, who had a heartbreaking story of his own.
At only five months old, Haatchi was left tied to a railway track. Before he could be rescued, he was hit by a train and ended up needing his back leg and tail amputated. The RSPCA (The Royal Society for the Prevention and Cruelty of Animals) in the UK rescued Haatchi, determined to find him his forever home.
It was love at first site for the pair, as Haatchi immediately nuzzled up to Owen and laid his head in the young boy's lap. Owen's stepmother, Colleen Drummond, calls their first interaction electric and said, "It's incredible, but it's almost like Haatchi understands."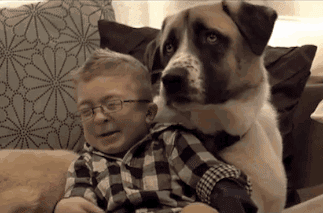 Owen refers to his dog as his best friend and says his life completely changed once Haatchi moved in with them. "Haatchi does look after me and he's special," said Owen.
Sharing Haatchi's story has also helped Owen come out of his shell and made him more confident in front of strangers. According to Owen's father, he now enjoys positive attention whereas before Owen worried people were pointing and staring at him and his wheelchair in a negative way.
The duo enjoys going around in Owen's electric wheelchair, spending time outdoors and attending dog shows, including Crufts, billed as the largest dog show in the world. In 2013, Owen and Haatchi won the Crufts "Friends for Life" Award.
Their amazing friendship can be seen in a short documentary titled "A Boy and His Dog," which has over 4 million views.